If you think of yourself as more of a maximalist gal, who'd never be happy with a 20-piece closet, that's perfectly ok. A capsule wardrobe sounds intimidating, but it doesn't mean you can only have a strict number of clothes in your closet. A capsule is a way of evaluating what clothes work best for you, and it encourages investing in fewer, higher-quality pieces. It's essentially a tool for training yourself to be a more mindful consumer. In that light, I think everyone can benefit from a capsule.
How much of your wardrobe have you utilized in the past month? I think I've lived in the same 4 sweaters and 3 pants since Christmas! And while that may not be for everybody, I bet you already have a few great pieces that never let you down, that you reach for over and over. Wouldn't it be cool if your whole wardrobe felt like that? Like you couldn't go wrong?
That's capsule energy. Here's how you get there.
Clean Out Your Closet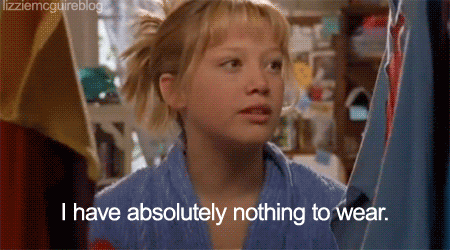 To start your capsule, you have to first clean out the junk. Calm down, I don't mean all your clothes have to go. But this is a good time to make some room by donating items you haven't worn in years, and throwing away anything with stains or rips. Clothes that fit you well and you like wearing can stay in the closet.
It's also a good time to experiment. I have a challenge for you. Grab a hanging rack and choose 10 items to wear for the next week. This doesn't include workout clothes or sleepwear – just what you would wear for most of your day. During the week, monitor how you're feeling – are you aching to reach out to the rest of the closet, or are you surprised and a little relieved by how easy getting dressed is?
Do Your Homework
To have an effective capsule, it's important to know your style and what is flattering on your body. Spend some time creating a Pinterest board of outfits you're drawn to, and pay attention to any trends you see in your preferences. Don't worry about those charts that categorize women's bodies as different kinds of fruit and tell you all the things you can't wear. Just think about outfits you feel great in and pay attention to their silhouettes. My tip? A high-waisted slim pant with a slight flare at the hem makes everyone's legs look a mile long.
An easy way to get the most out of your curated wardrobe is to limit the colors in your capsule. Start with a neutral base, like black or navy. Most neutrals work with other neutrals, so beige, gray, cream, and white are safe bets. Pick a couple colors that work with your skin tone to add some personality to your capsule. If you need help to figure out your colors, check out the seasonal method, which gives you a range of colors that suit you rather than three or four. But if there's a color you're drawn to and enjoy wearing, chances are it's already in your color palette.
Build Your Capsule
Now that you've analyzed your personal style and color palette, try and create a capsule wardrobe for the current season from the clothes already in your closet. Pretend you're packing for a three-week trip, and aim for 20-30 pieces as a benchmark. Some factors to consider when building your capsule:
Versatility – I like to make sure a piece can be worn three different ways before it makes it into my capsule. Your outfit options will grow exponentially!
Quality – If an item is going to wear out in four washes, it doesn't belong in your capsule. Fast fashion may be cheap, but you spend more in the long run replacing your whole closet every season.
Personality – Will you wear the item? An influencer's capsule wardrobe may include a pencil skirt, but if you don't wear skirts, don't put one in your capsule. Your wardrobe is meant to be personalized, and someone else's outfit formula will never be the best fit for you.
Now that your capsule is assembled, don't chuck everything else you own right away. You may spend a few weeks fine-tuning your capsule to work for your lifestyle. Make a note of any items your capsule is missing and put them on your shopping list. Build your ideal wardrobe slowly, investing in the best quality you can afford. Once I have my capsule established, anything I buy has to replace an old item. It's a one-in, one-out system, which guarantees any new items are useful and needed.
What about the rest of your clothes? Put your out-of-season items away; you'll be much better at evaluating your most useful pieces when they're in-season. The in-season clothes that didn't make your capsule can stay if you're not ready to part with them. Put a donation box in the back of your closet, and every few weeks take a look at the clothes you're not wearing and see what can go in the box.
What About Formal Wear?
Certain pieces, like formal wear, don't fit the capsule wardrobe format, but you can still reduce the closet space they take up. Do you really need that bridesmaid dress you'll never wear again? What about your prom dress? You probably don't need ten cocktail dresses, but they have a way of accumulating, and no one wants to be an "outfit repeater." An easy fix? By all means, keep your favorite, wear-anywhere dress, but for weddings and dances I go to Rent the Runway. It's way cheaper than buying a dress, and when the event is over, I just ship it back for free. I call that a win-win.
Will you embark on the capsule wardrobe journey to a happier, higher-quality, and environmentally friendly wardrobe? Let me know in the comments!